Long days ahead means more time outdoors. Whether hiking, strolling the beach, camping, or running errands you'll get all sweaty & scorching!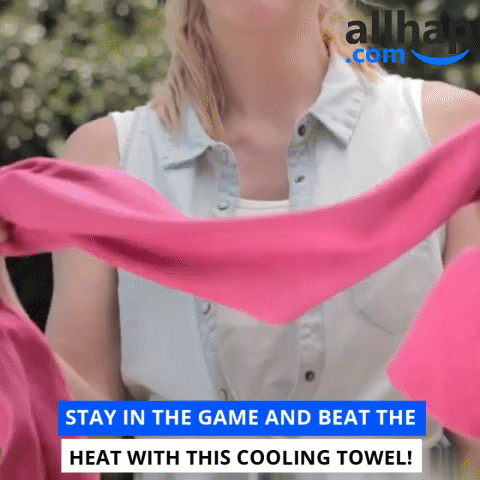 Wondering if there's a way to keep cool on the go? Meet these cooling towels that help you to cool down in seconds.
Get ready to take on the summer heat! Our high-quality top-notch cooling towels promise to help you beat the heat. These little bits of cloth held up well to the challenge and stays cold for hours without needing to re-soak. With super absorbent fibers, these towels entrap water molecules within and provide a cooling effect for a considerable amount of time even with high humidity around. The towel conveniently fits into the palm of your hand and is ideal for when you want to pack light- especially when you are out hiking. Throw one of these cooling towels right around your neck to provide immediate relief during the long, sweat-filled trekking.
Benefits:
1. Beat the Summer Sun
Soak it, wring it & cool down- it's that simple. These towels are perfect for anyone spending a lot of time in the heat.
2. Give a Cooling Effect
Its super absorbent fibers soak the water and provide an instant cooling effect on the go. A refreshing reprieve on a hot, sunny day!
3. Stay Wet & Dampen
Unlike conventional towels, these do not dry out quickly. Having these cooling towels wrapped around your neck, you can stay fresh all day long.
4. Convenient Carrying
The towel comes with a bag that facilitates carrying. It folds into the size of your palm and you can stash it anywhere in your luggage.
5. UPF-50 Protection
The towel also keeps your neck protected from those harmful UV rays.
Specifications:
Material: Polyamide/Polyester Blend
Size: 38.5″ by 12″
Package Includes:
1 x Cooling Towel
1 x Carrying Bag