Keeping the right wrist angle is quite difficult for beginners during the swing. Our golf swing training aid will be the best choice for golfers to master the correct swing posture.
This is a nice training aid for beginners to keep their arms straight and together. Ultimately, helps golfers gain the perfect swing movement.
Train like a pro using the Golf Swing Training Aid! The swing correcting tool helps the arm and the club to form the right alignment while the armbands restrain the right arm and help achieve correct swing posture. By promoting correct setup and alignment position, this training aid will lead you to greater accuracy in hitting the ball. This training aid effectively solves all kinds of common mistakes in the chipping, pitching, and putting process. Great tuning set to use for beginners and avid golfers alike.
Benefits:
Correct the Swing Angle
The swing corrector tool helps with wrist placement and forces the lead arm to stay nice and straight. By aligning both the arm and the club, it helps you achieve effective hitting.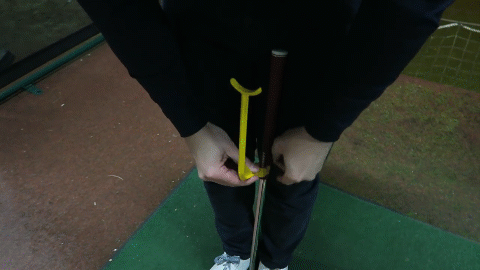 Better Swing Posture
The swing support bands ensure that the right arm remains close to the armpit, while the right elbow shapes an inverse triangle with the unbend left arm. Thus you can gain a better upper swing posture.
Forms Muscle Memory
Hours of training with this kit will eventually form muscle memory and help beginners to set up their swing.
Ease of Using
The tool can adapt to different club sizes and can be easily attached to the shaft of the club. The bands are made using premium elastic fabric and provide the utmost comfort.
Specifications:
Support Band Material: Waterproof Neoprene
Angle Corrector Material: Plastic
Support Band Size: 13.8" x 2.75" (One size fits all)
Angle Corrector Size: 9.8" x 3.54"
Package Includes:
2 x Golf Training Support Band
1 x Angle Corrector Tool