Facing trouble carrying your golf shoes around? Having this shoe carrying bag by your side, you don't have to carry your muddy golf shoes inside your expensive golf bag.
This bag provides a convenient approach to carry your dirty golf shoes. It has plenty of room in the main compartment that can easily fit any large-sized shoes. The side pockets in both ends come in very handy when you want to carry some little extra items such as socks, spare tees, or golf balls. The mesh on the sides allows proper ventilation, keeps the shoes odorless, and prevents unwanted bacterial growth. Its lightweight & compact design makes it perfect to carry around wherever you roam.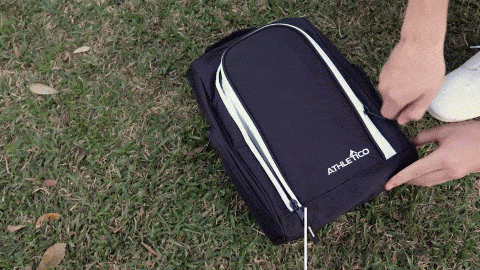 Benefits:
Perfect For Carrying Shoes
The golf shoe bag allows you to easily carry your shoes with you at all times. It helps avoid storing a pair of muddy golf shoes inside an expensive golf bag.
Lightweight & Portable
Not being too bulky, you can carry your shoes in this compact sized bag with ease. It also features a neoprene comfort handle for easy carrying.
Quite Spacious
You can fit your large-sized shoes into its main compartment without facing any difficulties. It can easily accommodate shoes up to US size 14.
Proper Ventilation
The mesh design ensures air permeability that gives the shoes enough room to breathe and helps the odd smell to dissipate.
Quality Material
Made with durable 600 Denier polyester, this shoe bag is designed to withstand dirt, and mud, keeping your shoes protected regardless of the weather conditions.
Versatile Application
Designed with golf in mind, but also works fine for any athletic shoes. You can also use it to carry and travel with your shoes for work.
Specification:
Material: Polyester
Form: Rectangle
Dimensions: 42.5cm x 24cm x 4cm
Item Weight: 326g
Package Includes:
1 x Golf Shoe Carrier Bag